Saturday afternoons retain their comfortable, familiar feeling this weekend as Leeds play host to newly-relegated Wolves in the lunch-time kick-off (subject to Sky, Police, Weather and possible Apocalypse). Three and a half months of precise planning and take-over speculation have all past in preparation of the start of the 2012/13 campaign as Neil Warnock looks to take United back to the Premier League. It should act as a welcome start for Neil and his new-look outfit. Warnock's arrival in place of Simon Grayson was met with a large amount of optimism as Leeds sat just three points behind the playoff positions in mid-February.
That level of optimism, for now, has been left unwarranted; Under Warnock, Leeds have returned less than a point per game. What was labelled 'Grayson's team' seemed unable to adapt to the new tactics and regime put in place, and by mid-March, United's slim play-off chances had burned out at the hands of Nottingham Forest (though that debacle is a whole other can of worms that we can leave unopened). It's fair to say that the clichéd instant impact that comes hand-in-hand with a newly-appointed boss was missing.
Nevertheless, a fourteen week period of 'major surgery' has seen Leeds re-vamped into a unit more typically suited to play under Warnock. A more prominent, hard working ethic has been brought into the side, and whilst a lack of invention remains a burdening issue a brighter season looks possible. All that has gone before should be casted out as nothing more than a footnote - Neil's legacy at Leeds United begins this weekend. Despite a tough start to the new campaign, Warnock and his men should be feeling quietly confident ahead of Saturday - Leeds' record on opening day is generally positive. In the past ten seasons alone, United have won seven (though the only two losses coming from the past two campaigns, at the hands of Derby and Southampton).
Of course, last season's opener, away at St. Marys, was not short of it's own controversy. A summer of discontent and lack of ambition from the board sparked anger in the fan-base, with protests in the stands aimed at chairman Ken Bates. This was the first time the support had a majority voice on the terrace, together in one calling for Bates' departure. On the field, matters were hardly any more positive. Leeds fell victim to a 3-1 defeat courtesy of goals from Dean Hammond, Adam Lallana and David Connolly. Max Gradel's consolation penalty in the last minute of injury time healed no wounds. The Whites' performance had been epitomised by an almost cliché performance from 'Barndoor' Billy Paynter,
summed up quite painfully by Howson is Now.
Prior to that was our return to the second tier where a new-look United, built on the premise of a tougher challenge following promotion from League One, played host to Derby County. Again on television, Leeds fell short of the opposition, as goals from Rob Hulse and Kris Commons sandwiched Luciano Becchio's finish to confirm a 2-1 defeat. The performance left a lot to be desired; The tempo and creativity of the affair consistently controlled by Derby's midfield with little from United in response. Infact, the only shining light from a Leeds United perspective was the impressive debut performance of Kasper Schmeichel. The young Dane pulled off an outstanding double save to keep Leeds within fighting contention mid-way through the second half.
Perhaps the most iconic season opener was of that in 2007 as Leeds travelled to Merseyside, facing uncharted territory as the Whites faced their first ever third-tier match. A travelling army of 2,000 made the journey to Prenton Park, juggling emotions of excitement, anxiousness and sheer relief at the fact that Leeds were still playing professional competitive football. The summer prior had been a living nightmare for the Elland Road faithful, with the club's future consistently in doubt, only to be settled through Administration, confirmation of Ken Bates' extension at the club and a fifteen point penalty to start of the League One campaign. Nevertheless, football was back and so was the 'us-against-the-world' atmosphere. Despite an early setback, Matt Heath's second half header and a scrappy last minute tap-in from Tresor Kandol secured all three points, leaving Leeds on minus twelve and around two thousand sore heads the next morning.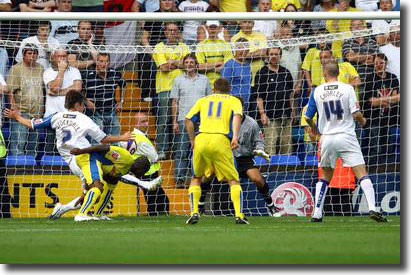 It shouldn't be a cause for concern, either, should Warnock's side fall short against Wolves. Whilst a running start is ideal, it is far from a fair analysis of how the season will pan out. Title competitors of yesteryear Norwich will preach this louder than most - Their 7-1 defeat at the hands of Colchester not stopping them from topping the League One chart in 2010. United can confess to this, too. Opening day against Newcastle in '89 acted as the start of quite a lackluster opening set of matches for the season. Following the 5-2 defeat at St. James' Park, Leeds proceeded to pick up just one win and three draws in their next four games, leaving the Yorkshire outfit with just six points from five.
Whilst 2012/13 promises to be a season of uniqueness (for off the pitch matters, at the very least), Warnock can take solace from the lessons of 1990. Following Wolves, Leeds face tough challenges in the form of Blackpool, Peterborough, Blackburn and Cardiff. Many of those sides will fancy their own chances at a promotion or playoff spot. Leeds have been dealt a raw hand to start of their new era. As shown under Sgt. Wilko, though, a jittery start against tough opposition does not have to spell disaster for the rest of the season. The infamous side of 1990 grabbed the title on the last day of the season on an iconic day away to Bournemouth, and Warnock's men could be writing their own script, with the final act prepared for Vicarage Road, Watford.
With around a dozen faces new to the Leeds United squad, it is only natural to expect a few loose bolts in the machine for the first few exchanges. Players need time to settle and gel, whilst the boss needs to fully assess who will be his preferred eleven. A tough start against recently relegated Wolves will not have been ideal, nor will the games proceeding. August should act as nothing more than confirmation of where the squad is at in comparison to the realistic challengers in the division, signposting the work that is needed for the rest of the campaign. Irrespective of early results, United will still be in with a fighting chance for promotion come May at Watford.