When asked by FourFourTwo magazine what he'd do in a hypothetical world as manager of Sheffield Wednesday, Neil Warnock replied 'As long as the whole of my salary was paid within 28 days, I would buy so many tosspots and fuck 'em up so badly. Then I'd retire to Cornwall and spend the rest of my life laughing my fucking head off.' Someone please remind him that we are not Sheffield Wednesday.
As the boo's rang around Oakwell's away end yesterday evening, it was hard to think that Warnock would see his position as Leeds United manager as anything but 'under pressure'. The 5,000 contingent sent Neil on his way with a blistering body-blow; 'Warnock, time to go' ringing from the rafters.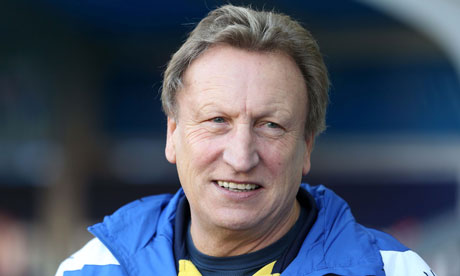 A dismal performance which saw no positive play, no shots on target and a 2-0 defeat against managerless, bottom of the league Barnsley is enough to put anyone under pressure. Instead, his viewpoint is clear. 'I think I'm doing a great job', something he states without a smirk, a whisper of comedic effect, or even that glint in the eye that only comes from painful sarcasm.
This seems to have been the turning point for so many. A manager so devoid of the current situation, out-laying the most pre-historic tactics and backing his evidential 'pals' within the club in spite of their dreadful performances has become too much for some that were previously hopeful of revitalised positivity around the club following the takeover by GFH.
Reasons for such disillusion are ten-a-penny. 'Hoofball' tactics are not just expected but customary, some left wondering why we even employ midfielders anymore (let alone sign them. Welcome to the club, by the way, Ross Barkley). His persistence to trust the likes of Michael Brown, Lee Peltier and Luke Varney in his 18-man squad has been baffling, his decision to make Peltier captain bewildering.
The latter could explain the former. An array of poor performances at right back saw Peltier receive a second chance to prove his worth as centre back. More mediocrity ensued, and as such, so did more second chances, this time at left-back. The pattern remained as he managed to reclaim his 'natural' position of right-back for 180 minutes before yet again stumbling across a fifth (and hopefully final) chance, back in the left-back slot.
Nothing else but a blind defence of his decision to name the 26 year old captain can surely explain why he has retained a place ahead of what Warnock called 'the best left back in the league' (Adam Drury) for so long. This, or a never-ending defiance over what was Neil's biggest transfer fee addition since arriving at Elland Road.
Regardless, his defiance reeks of stubbornness expected in a manager of much less experience. Purely from the statistics, you'd expect seven promotions and thirteen managerial positions to teach you a thing or two about knowing when to flog a dead horse. Of course, this isn't a statistical case, this is Neil Warnock, boasting one of the most inflated ego's in the game today.
His antics and rants have caused controversy for years, finding dozens of enemies and acting as a ticking-timebomb for the press, patiently waiting for his next outrageous (or idiotic) quote for their back pages. Arrogant promises remain unfulfilled ('You'll never see a Leeds United side like that again' following the Derby County defeat in April), whilst some extracts scream of those of a self-centred dreamer ('this club needs me more than I need them').
You have to sit and wonder if the appeal of Leeds United was purely just the chance to preach from a larger stage than he's ever handled before. Embarrassingly, it seems to be the case. He just seems to have forgotten that he actually has a football club to run behind the curtains of his garbage broadcasting.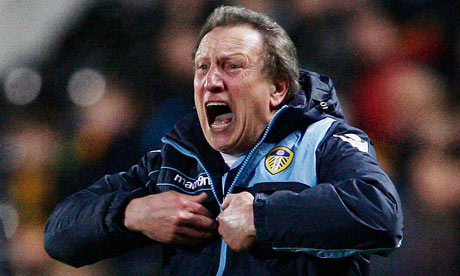 Even these ridiculous rhetorics could be tolerated at the expense of some self-depreciation. After all, his performance review at Leeds United hardly screams of excellence. Alas, ten months and forty-seven games in, Leeds United remain as part of English football's second tier sector of mediocrity. The excuse of being burdened with another man's team hung out to dry months ago. Nine of the eleven starting yesterday were brought to the club by Warnock (ironically, the outcast two are Luciano Becchio and Sam Byram, Leeds' two stand-out performers this term).
This is very much Warnock's team, yet his post match views see no blame resting at his own two feet. An onslaught at top goalscorer Luciano Becchio and the transfer window were the major culprits for yesterdays' defeat; The Argentine's head supposedly being turned by the lure of a bigger move following nineteen goals in a side creating more wind resistance than goalmouth action. Not the lack of creativity or width from four central midfielders across the park, or the inane long-ball tactics without a second strategy to retort. No, the fact that our striker is very good and is interested by clubs better than a tedious Warnock ensemble.
We shouldn't criticise too much about his ego, though. He's clearly not above apologising. Infact, he took his apology offered to newbie Ross Barkley public. 'We don't usually play like that'. How sweet, it's just a shame that he's lying.
Frankly, nothing is pointing in Warnock's favour. The results are sub-par, with the club potentially eight points behind the playoffs should Watford win their game in hand. The performances remain amongst the worst the club has ever seen. It's a miracle (and of immense credit to star player Luciano Becchio) that the club has managed to pick up six wins in the past ten outings, as the performances have been that of a relegation-stricken mire.
With a supposed new dawn on the horizon under the guidance of GFH, it's surely time for the new owners to see sense and start afresh with a long term plan for us rather than act as a stopgap for an old-timer living off his promotions in 1990 with Scarborough and other various sides scattered across the East coastline whilst the rest of us prepared for New Labour and Tony Blair.
Retirement in Cornwall with Sharon awaits dear old Colin. The sooner, the better.