Despite the appeal of the largest Conference Centre between Manchester and Newcastle, a loss-making radio station and a postman as CEO, Leeds United may have to once again face up to losing a star player to the canary call at Carrow Road. Ken remains sleepless at night, fretting over the appeal of Coleman's Mustard, their famous cathedral, with it's 315ft spire (the second highest in England, nevermind between Ipswich and Bristol) and Waterloo Park, wondering just what he can do to stop the relentless pursuit from Delia and her boys for Elland Road's finest.
Of course, the answer is simple - Ambition. It's a race we've fallen far behind in since 2009. Sure, we started well. Our team was fresh, filled with upcoming talent and balanced well despite the loss of Fabian Delph. Norwich themselves had tripped over their shoelaces as soon as the pistol fired, losing 7-1 to Colchester on opening day. Fast forward two months later, and United had even grabbed a late 2-1 win over the Canaries thanks to Jermaine Beckford (and an 'assist' by Fraser Forster). Max Gradel debuted for Leeds United and frightened the fans; A loanee was showing signs of performing well. Norwich left Yorkshire that night falling eleven points behind Leeds with just twelve games gone. They left inspired by a young midfield trio of Bradley Johnson, Jonny Howson and Robert Snodgrass. Nearly three years on, and Norwich look set to chase their final piece of the trilogy, the Canaries keen on bringing Snodgrass to Carrow Road to join friends Jonny and Bradley to link up again; This time in the Premier League. It's a wonder they didn't sign Michael Doyle, too.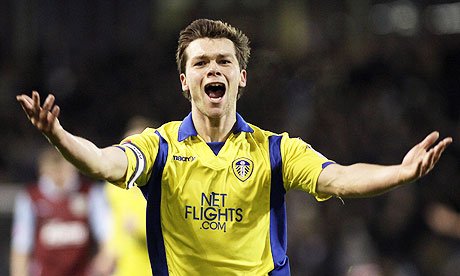 Three years can be a long time in football. You can either build upon momentum and make something truly outstanding happen, or simply falter behind, floating on mediocrity as your stars look to abandon ship. Norwich took the former option. After steam-rolling the second half of the 09/10 campaign and claiming the League One title, they followed on with a second successive promotion to the Premier League in 2011. Star players were kept on the books, despite interest from other clubs. Leeds, on the other hand, began to crumble despite promotion.
First, the expected departure of Jermaine Beckford was challenged with 'Barndoor' Billy Paynter's arrival. A year later, after a faltering end-of-season challenge at the Championship playoffs, Max Gradel and Bradley Johnson followed the exit signs at Elland Road. Contract negotiations handled by Shaun Harvey, a man deemed more suitable to handle free newspapers from door to door had a part to play. Chairman Ken Bates remains at the forefront of accusation though, and rightly so. His lack of ambition and intent to sell off a young and ambitious midfield saw the club settle into apathy in the mid-table slums of the second tier. Much like the rabbit, we stopped and took a quick nap, the only difference being that we were far behind in our race.
And now, as Norwich settle in for a second top-flight season, they look set to take the final piece of Leeds' 09/10 midfield which held so much promise and so much opportunity, with Sky Sports reporting a bid from East Anglia for the Scottish winger. Whilst Ken and co. were concentrating on the importance of building projects and casino plans, Delia was allowing young and talented managers pull the strings and improve the aspects of the Football Club that truly matter; Those on the pitch.
Whilst a bid has not been accepted (or, for that matter, rejected) by United, it is testament to the talent that has come (and gone) from this young side. It is also testament to the blatant lack of ambition that has rotted the soul of this club for the past seven years. Snodgrass himself has questioned the club's level of intent to challenge for the top-flight, asking the question 'how can you say you're aiming for promotion then sell your captain [Howson]? ' When Snodgrass posed the question to a fans' meeting back in March, it's doubtful he felt he'd be wondering if the question would include himself just four months later.
Irrespective of the outcome of such a bid from Norwich, one point remains firm in the eyes of all. Leeds United has fallen behind from where it should have been and is chasing shadows in an attempt to salvage any joy or success. Gone are the days where fans can feel confident in their young, promising side at Elland Road. Instead, we shudder at the thought of a phonecall from Carrow Road, petrified of who they could be taking this time. And despite the potential takeover on the horizon, the forefront message to Leeds fans today remains that until Ken Bates leaves, United will be nothing more than a second-tier club built on mediocrity, stripping playing assets in order to expand the building portfolio.